When taking the 2017/18 summer and winter transfer windows into account, 14 clubs had recorded a higher net spend than Liverpool. In fact, the only clubs below the Reds in the table all posted negative figures and they spent less than all three promoted teams,
all of whom have struggled recently
.
Yet when those figures were calculated on February 1, 2018, Liverpool were sat in third place in the Premier League table behind just two clubs, Manchester City and Manchester United, who had outspent them by £181m and £117m, respectively. In the

Premier League betting markets, bet365 had them priced at 1/4

to finish in the top four, well ahead of Chelsea, Tottenham and Arsenal.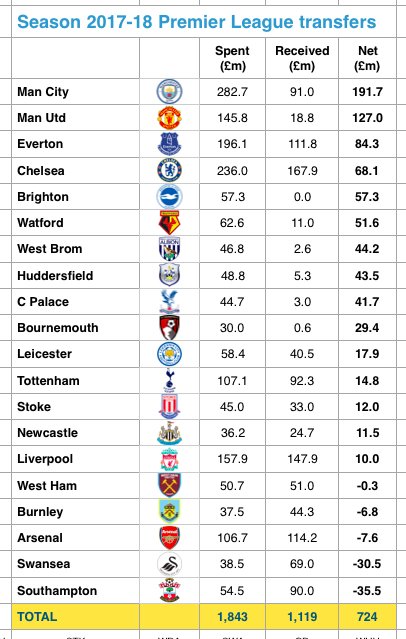 Image Source: @sportingintel via
Twitter
While this apparent lack of investment will no doubt be used by many fans as a stick to beat the club's owners with, it could also be argued that the club's owners Fenway Sports Group, and indeed manager Jurgen Klopp, are remaining cool-headed in a marketplace that at times feels completely out of control.
The Merseyside club do not have the pure spending power of the two Manchester club's or even some of the clubs below them, so they have been forced to take a more prudent approach. Of course, this represents a hard sell to a fan base desperate for silverware and with a jaded history when it comes to American owners.
The decision not to buy a replacement following the departure of Philippe Coutinho was met with a lot of head-scratching.

An unsuccessful attempt to bring Naby Keita

to the club six months ahead of schedule prompted the club to stick with what they've got until the summer, confident in Klopp's ability to keep the club in the top four. In fact, Klopp himself has stated publicly that he happy with the clubs' transfer policy.
Taking their spending into consideration, Liverpool's position in the league is perhaps an over-achievement, yet whenever they drop points they are heavily criticised in the media and by their own fans. There is a feeling that if that splashed a bit of cash, they would comfortably finish in the top four, perhaps even challenge for the title and certainly pick up some silverware.
Looking at the evidence so far, the Anfield club have certainly progressed under Klopp, despite the thrifty spending. The German tactician led the club to two finals in his first season, despite only joining in October. In his first full campaign, he guided the club back into the Champions League via a fourth-place finish. And this season, he has taken the Reds to the knockout stages of UEFA's elite competition for the first time since 2009 and has kept them right in the hunt for another top-four finish. All whilst spending considerably less than his rivals.
Of course, there is much to be admired about a football club that lives within its means and manages to stay relatively debt-free while competing at the highest level. But in the long term, such prudence will only be tolerated if trophies are forthcoming (Arsenal are another example of a club in this predicament). The Reds have already crashed out of two cup competitions this term so all eyes will be on their upcoming Champions League clash against Porto.