Retired referee Mark Halsey has written an autobiography called, "Added time: Surviving cancer, death threats and the Premier League" - which isn't the catchiest title. Anyway, he has spoken of the infamous spat between Mikel and Mark Clattenburg. Apparently Mikel tried to punch Clattenburg and said he would break his legs, which would have been the most he's ever done in a Chelsea shirt.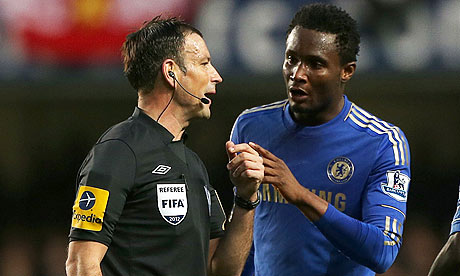 Clattenburg was accused of doing two racisms during a game between Manchester United Vs Chelsea, but was found not guilty of doing said racisms. Apparently Mikel went into Mark's dressing room and said "I'm going to break your legs. You called me a fucking monkey". Which would be a surprising thing for a referee to say. He also tried to punch him but was restrained by about six people. I wonder what he did actually say, maybe "you're a fucking donkey" - which would be more believable, and accurate.
It seems so long ago that everyone was racist and fighting. When's Luis Suarez back?