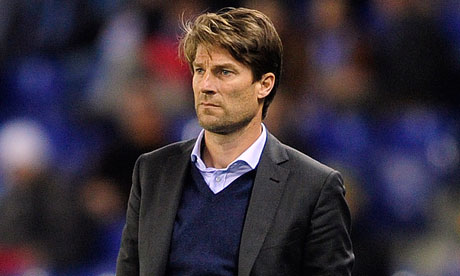 God damn Laudrup is handsome. Swansea had their first competitive game of the season tonight and completely destroyed Malmo 4-0. It was the Europa League nonsense, which starts even earlier than the Scottish season, that's how ridiculous this tournament is. Wilfried Bony, which looks and sounds like a made up name, scored two goals on his debut and showed Swansea fans that they might actually be able to win games if Michu gets injured.
Michu himself scored the first goal, in what has become traditional Michu style - stroll through on goal, curl the ball with his left foot inside the back post, light up a spliff and listen to Bob Marley. Swansea's fourth was ridiculous, it was like their players were just fannying around on the beach, but without beer bellies and sunburn.
GIF below from 101greatgoals - rulers of the football galaxy.
Meanwhile in Belarus, St.Johnstone won an "ugly" game against Minsk 1-0. I don't really understand how this happened, Steven MacLean who wasn't even good enough for Aberdeen scored the only goal of the game. We wish them luck on their European adventure - I give thee the blade of Gondolin, it will glow blue when orcs are near.