This weekend was the historic, famous, romantic FA Cup Semi-Finals. There were goals and fights, fights and goals, and a stamp.
Saturday saw horrible, scummy Millwall playing little old inoffensive Wigan. I like taking the piss of Wigan having no fans because well, it's easy. However I didn't realise just how small Wigan is, the population is only about 80,000. Aberdeen has a population of about 220,000 and Aberdeenshire about the same again- which shows just how shite our support is and the massive hypocrite I am. I'm ok with that.
Anyway, Wigan won 2-0 thanks to Shaun Maloney (who Aberdeen let go from their youth academy for being too
good
small). Calum McManaman who is apparently 21, scored the second - he looks like a 35 year old junkie who travels around on a stolen BMX.
It wasn't the football, but rather the Millwall fans beating the shit out of each other that made the news. There are various videos and pictures of unemployed people punching and kicking each other, dripping in blood. The footage of a young girl crying made everyone think, "why on earth would you take your daughter to a Millwall match?". One lovely chap even stole a policeman's hat and hid it under his jacket. Little did he know that he was being followed by the television cameras the entire time, the country united as one saying "what a wanker" in harmony.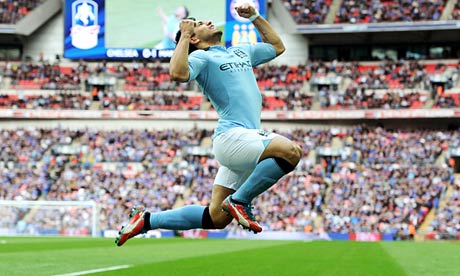 Today we saw a real game of football with Manchester City reminding everyone that they should be the best team in England, defeating Chelsea 2-1. In the first half Man City were completely dominant and it felt as if Chelsea were in for a Victorian age school-style thrashing. The melty-faced lesbian Nasri opened the scoring in the first half, with Aguero scoring a free header just after the restart. Benitez the bearded wizard made a couple of changes, and straight away it paid off - with Demba Ba scoring another ridiculously good hooked over the shoulder volley, and then celebrating with strawberry syrup.
Sometimes you watch referees during a game and you think...really? Today was one of those days. First of all, this was not a red card, it wasn't even a yellow.
There was also a penalty claim for a foul on Torres. It pisses me off in football when a player manages to stay on his feet so it's not deemed a foul. Sometimes you'll even hear the commentator say, "if he'd gone down there, it would have been a penalty". Fernando Torres went up to Chris Foy and did the old, "you need glasses" gesture, which looked utterly ridiculous since he was wearing his Batman mask. I wonder how many angry tweets Chris Hoy will be getting tonight. #ChrisFoynotChrisHoyyoutwats