It was Celtic's first game in the Champions League knock-out stage in three million years, Parkhead was sold out, the fans were drunk and loud, Efe Ambrose had just arrived back from South Africa- what could go wrong?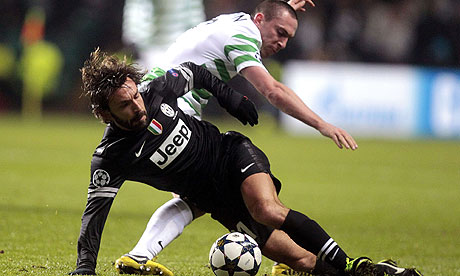 3-0 Juventus? Oh, oh dear. Celtic found themselves 1-0 down in the opening minutes. Some shit defending from Ambrose , combined with a comedy nutmeg on Fraser Foster was enough to see Matri score - although they gave the goal to Marchisio because the officials were useless. Celtic responded well and actually created a few chances, the best of those falling to our man Ambrose. Perhaps he was still hammered from partying in South Africa and actually saw two balls when the cross came in? Unfortunately he didn't really connect with the real ball and it was comfortably taken by Buffon- who still managed to look handsome, despite wearing a hideous goalkeeper jersey.
I found myself saying "Celtic need to score here, this is good as they can play and if they don't score, they are fucked." That proved to be the case, with Marchisio scoring a second. At 2-0 down, the Glasgow side really needed to do something, like score and definitely not concede another- unfortunately Ambrose was still on the pitch. He was caught in possession just outside his box, have you ever had your pants pulled down, revealing your penis to a group of strangers? I have, and I'm pretty sure that's how Ambrose felt as Marchisio played in Vucinic to make it 3-0.
Lots of people moaned about the referee and his selective blindness at corner kicks. Apparently if you are Italian, you are allowed to hold onto people and stop them moving - this is the "art" of defending you uncultured swines! Anyway, Juve are through and I still love Pirlo. Now that's an in depth match report.