England U21s were in action tonight against Serbia U21s in a game which would decide who would qualify for the U21 Euros in 2013. Unfortunately nobody cares about the result because of what happened at the end of the game.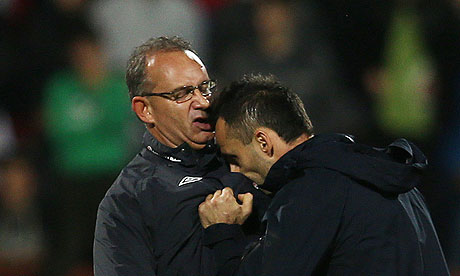 That's actually an England coach being headbutted - it's not a homosexual embrace.
With England winning 1-0 from the first leg, the game was at 0-0 approaching the final whistle. Serbia sent their goalkeeper up for a last minute free kick, England ran down the other end and Connor Wickham had a tap in to win it.
As the players celebrated, the Serbian fans reacted in the natural way, throwing all manner of missiles at the celebrating players. Thankfully no nuclear missiles were launched. England's black players were on the receiving end of monkey chants throughout the game and eventually Danny Rose reacted by punting a ball into the crowd. He literally tried to kick racism out of football, unfortunately he didn't kill anyone.
The final whistle blew and a mass brawl kicked off between the two teams, fans and animals. Stewart Pearce kept his cool and only ripped the face off three Serbian fans.Hopefully UEFA will finally take some real action, the monkey chants are clear as day on the video below. I hate racists, I hate racisms, I hate Adrian Chiles.