Rejoice! Scottish football has returned and Rangers drew 2-2 with Peterhead, which is funny.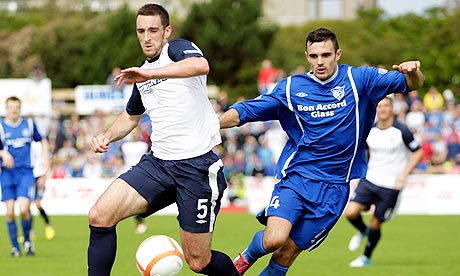 I do feel slightly bad about finding Rangers being in the Third Division absolutely hilarious because without doubt they have had every single thing that could go against them, go against them. Some might say that that's what happens when you are an army of glory hunting orcs who consistently cheat your way to victory, and others might say 'WAAAH STOP BEING SUCH A BIGOT ABOUT RANGERS WE ARE A GREAT CLUB'. I don't listen to those guys because they suck. According to Peterhead's team doctor, who I happened to speak to today, Rangers' last minute equalising goal shouldn't have counted because they bundled the keeper over the line. I don't even have to watch the video to know that this will be 100% true.
In the SPL, where actual football clubs play, Aberdeen drew 0-0 with Ross County, managing to pull a crowd of 14,000ish for Sell Out Saturday - a campaign to sell out the 22,199 seater stadium of Pittodrie which didn't work incredibly well but was a nice idea. St Mirren beat newly promoted Dundee 2-0, Caley Thistle and Kilmarnock drew, as did Motherwell and St Johnstone.
And that was what happened in Scottish football on saturday. So tell all of your friends