Hi Rangers fans, how are you? I know you guys must be pretty upset about what's going on but don't worry about anything. Malcolm Murray has said he's sorry so everything's cool.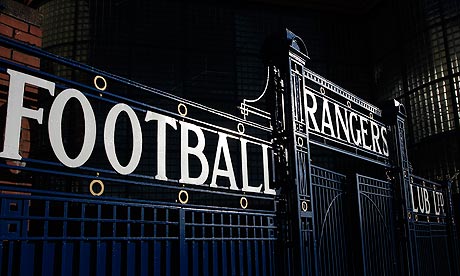 The newco Chairman has become the first man in the history of the old-firm to admit that they ballsed up and actually apologised to the rest of Scottish football. You're welcome. Murray apologised on behalf of all the greedy fools who ruined the club in the first place. I really don't understand why he's apologising on their behalf, it means absolutely nothing coming from him. Craig Whyte is still living in a castle with all his evil money like Cyril Sneer from The Racoons.
Ally McCoist and the others had no idea what was going on so they don't need to apologise for walking around with their hands covering their eyes and cotton wool in their ears- shouting LA LA LA LA at the top of their voice anytime somebody mentioned money.
Apologising is for gays anyway, I hate apologising. I always use the "I'm sorry but" method, guaranteed to keep your stubborn pride but ensure the argument lasts at least another hour.
I would like to apologise to any homosexuals who were offended. Most obvious joke ever?