At the best of times the BBC's punditry is terrible and they've done something about that now, by getting rid of their best one. So now it's god awful instead. Yay!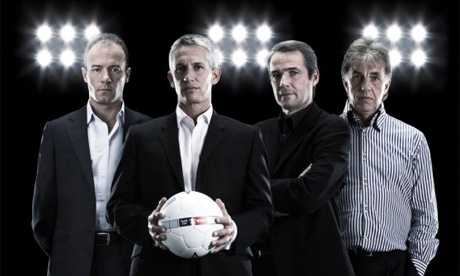 Due to falling out with Alan Shearer on air a couple of times, including one horrifying moment when the ex-Newcastle striker slagged him off for knowing who Marek Hamsik was, the former Arsenal man has been asked to leave MOTD for the new season. Jesus wept - Lee Dixon was about the only member of that whole boys club who actually knew anything about football, and although he's really boring, at least he did some research and had some tactical input on games.
Alan Shearer just sits there telling us literally what we can see ourselves on screen 'um and that's the striker and look he passed it there and then this guy missed. He should maybe have scored there. Or missed. I'm not sure. Can I have some money now please' and Alan Hansen is just there earning about £4billion an episode to go 'meow meow meow DEFENDING meow meow meow'. Lineker is actually alright but he hosts it, and don't even get me started on Mark Lawrenson. If I was in a room with Mark Lawrenson, Adolf Hitler and Dr Robotnik, had a gun with two bullets and I had to use them, I would punch Mark Lawrenson to death.