Spain played Croatia tonight and if that doesn't sound exciting to you, good. Because it wasn't.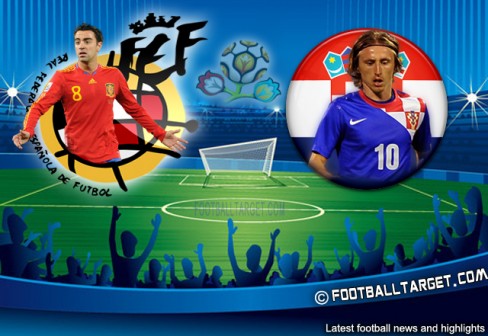 Spain decided to start Fernando Torres today, who was useless, and then replaced him with 8 midfielders, apparently under the impression that passing the ball the most is the best way to accumulate points. Every team in the world has figured out that if you sit really deep and get your strikers to press up the pitch, there's not much Spain can do in the way of scoring, since they seem to be terrified of doing it whenever they get near the box. That is provided you do this for 90 minutes. I'm not sure if it's even Spain's fault that they are boring, I think other teams just ruin the games against them now.
All Croatia had to was score a goal and they'd go through and Italy would tumble out, but instead that didn't happen and eventually Iniesta and Jesus Navas broke the offside trap to score from literally 1 yard out. I think that was the only shot I observed Spain actually take. From 1 yard.
I know that it's technically great football, and Barcelona are awesome to see, but watching Spain play is like going to a friends art museum exhibit. Some of the stuff there is amazing and you can't help but stare in wonder at the beauty of it but then an hour's gone and nothing exciting happens. "Oh it defies conventional thinking" the people say, while you wander around the exhibits looking for a picture of someone with her tits out. Sometimes we just want to see tits, Spain.