Ukranian heart-throb Andriy Shevchenko scored two goals to earn his home nation the three points against Sweden, who look bad.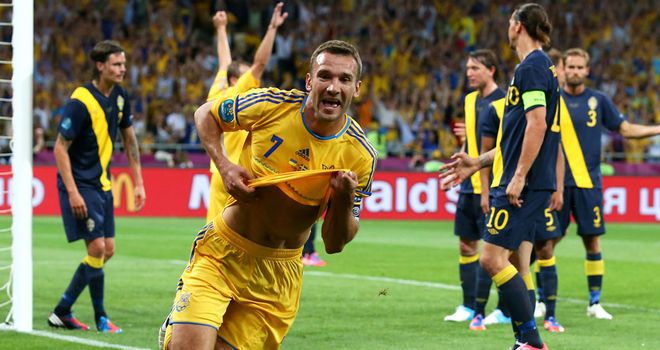 Shevchenko has basically been kept in an isolated chamber over the last two years while scientists worked on making him fit enough to play, and I think some of that might literally be true. He popped up with two proper striker's goals, both headers, beating his marker at the near post on both occasions to wipe out Zlatan's opening tap-in in the 52nd minute.
Zlatan strutted around the pitch occasionally trying and we had to listen to Martin Keown explain how bad Ibrahimovic is even though he was top scorer in Serie A last year and is undoubtedly one of the best players in world football right now. How do these people get these jobs? Just because he didn't score against Arsenal doesn't mean he's shit, you morons. He wants to be a manager as well. Jeeeesus.
The rest of the Swedish team were balls, Ukraine pretty much relied solely on the experience of Veronin and Shevvychinchenko because once those guys went off the pitch they didn't know what was going on. It was like putting a whole bunch of drunk people in a strip club for the first time. The look in their eyes was delight with about three fifths of absolute fear.
To summarise: strip clubs are terrifying