I stupidly thought that Ronaldo would actually be good at this tournament. Perhaps he should change his name for the major tournaments because he is damaging the good name of the fat, real Ronaldo.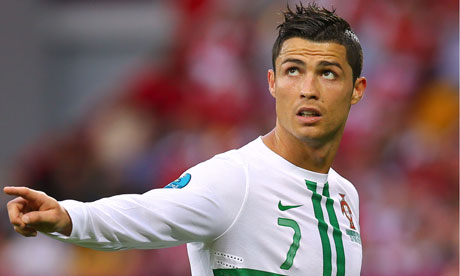 Denmark fans kept chanting Messi's name in the game against Portugal which clearly effected Ronaldo, as he missed a couple of sitters. He kind of had the last laugh as Portugal actually won and he should console himself with the thought that Messi was rubbish at the last World Cup and forget about that hattrick he scored against Brazil the other day.
Known for crying like a girl when things don't go his way, Ronaldo stayed true to form in an interview after the match. When asked about the Messi chants after the game, he said this-
"You know where he was at this time [last year]? Do you know? He was being eliminated in the Copa America, in his own country. I think that's worse, no?"
Or wah wah wah as is the proper translation. Just to reinforce how much he hates him, that's not even true. Argentina were knocked out in the quarter-finals. Ronaldo scored 60 goals last season which is utterly ridiculous. Messi scored 73, no wonder he hates him. If Messi ever mysteriously disappears or dies in unusual circumstances, I know the first person the police will be speaking to.