A draw between Italy and Croatia was about as predictable as Alan Carr making a joke about being gay. Did you know he was gay? He never mentions it. 1-1 it finished, I have begun writing this in the 88th minute because that is how confident I am it will end this way.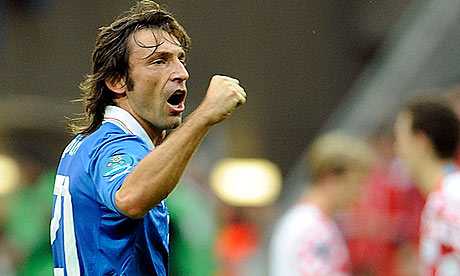 Croatia fans booed Balotelli a lot but it's impossible to know if that's because they are racist or it's because he's Balotelli-most likely the latter. They also threw flares onto the pitch which doesn't mean anything, it's just annoying. There was quite a lot of dirtiness off the ball and the usual man-hugs at every set piece. At one point a Croatian player elbowed someone in the head but it turns out that is not a foul.
Andrea Jesus Pirlo opened the scoring at the end of the first half with a free-kick that just cleared the wall -then dipped and curled to the keepers right. Words cannot describe how much I love that man and I have no affinity with Italy other than I really like pizza.
Slaven Bilic gave Croatia the kick up the arse they needed at half-time and they came out looking like they were going to score. Italy did their usual business of thinking they would just hold on for 1-0. Croatia tried about a thousand crosses before eventually one arrived at Mario Mandzukic. I shouted at him for being an idiot and taking a touch but he took it down and scored in off the post - making me look quite the fool.
I like when Italy bring on Giovinco, it looks like a lost child has run onto the pitch. It's finished 1-1, thank God as I really couldn't be bothered doing any editing.