Euro 2012 is already awesome because Greece have somehow managed to work their way through to the quarter finals, beating mother Russia 1-0 last night. Captain Giorgos Karagounis thinks it's about as good as winning the whole thing. LET'S ALL GO HOME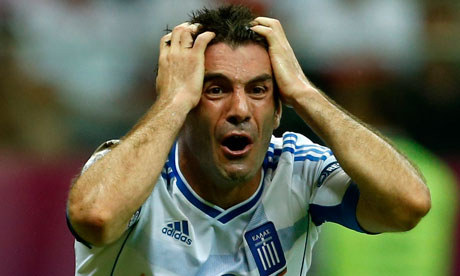 As much as any Greek will tell you they love Karagounis, he is the most theatrical mother fucker on the pitch at any given time, anywhere. If you so much as brush his foot anywhere near the penalty box this guy will fly like like a kite, roll around the floor and scream so loud you think he's trapped in Josef Fritzl's basement, when in actual fact he just wants a free kick. Fair play to him, because it works and I think it's funny. Karagounis on the other hand will be annoyed that his reputation preceded him in last night's game and as he was tackled in the box his spectacular plummet to the ground, which could quite easily have been interpreted as a foul, instead earned him a yellow card, forcing him to now miss the quarter final, whoever that might be against.
The 35 year old managed to score a surprise goal with one of the last kicks before half time and celebrated in style afterwards, telling reporters:
"We did not give up. We can compare this to our cherished moments in Portugal in 2004.
"We believed all day that we would not return to Athens [after the group phase]
"We kept our promise to all. All Greeks can now celebrate. When we are united no-one can stop us."
Meanwhile in Greece, someone is selling one of their four porsches to fund the hotel the team has to stay in for the rest of the tournament. If Greece end up beating Germany in the next match I think they honestly might get invaded