Irish people are loud and like drinking. I was planning on supporting Ireland since Scotland continued their great form of never qualifying for anything, ever. Then I decided that supporting Scotland and Aberdeen already brings me enough misery.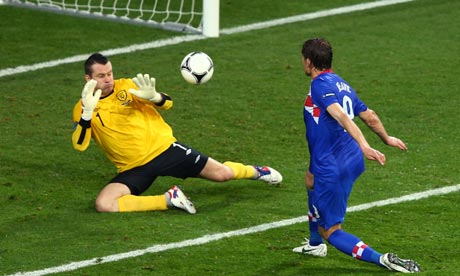 The real Ireland have lost their opening game 3-1 against Croatia and for long periods of the game got a lesson in passing a football to another player wearing the same colour of shirt. Shay Given was still warming up when Croatia opened the scoring. It was the slowest headed goal I've ever seen and trickled into the net after Seamus should have jumped to the left, but he took a step to the right, had his hands on his hips and brought his knees in tight. That's a Time Warp joke.
Ireland scored after flo-rida blew his whistle and made everyone think it was offside. Croatia complained afterwards but they clearly didn't play to the whistle and did try to defend so I count it as a real goal and so did the referee. Jelavic was probably almost definitely offside for his goal when Modric initially shot but then the phase two power came into play and a hilarious slice from someone I can't remember let Jelavic dink over Given and it was 2-1.
Starting in a similar vein to the first half, the second half saw Ireland defending terribly and Croatia scoring from a header. Poor Shay had another nightmare with the ball rebounding off the post and then his head before going in. It will go down as an own goal which is really harsh because he couldn't do anything about it. The luck of the Irish certainly did not help at all tonight and neither did the lack of footballing ability.
3-1 game over and most likely out of the tournament. They could beat Spain or Italy or both but probably won't. That said, stranger things have happened- Cliff Richard has managed to have a successful career for over 50 years masquerading as a heterosexual.