Unless It's a war, Germany just cannot seem to get the better of Italy. That continued tonight as Balotelli scored twice and showed us all how skinny he is.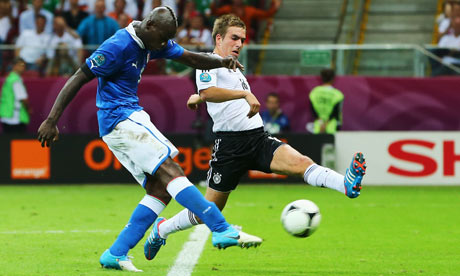 Italy like major tournaments. They have strolled through this one without really breaking a sweat, fully encapsulated by the performances of Pirlo. Germany may have played the best football in this tournament but the Italians don't give a shit about that. If one man really doesn't care about other people, that man is Balotelli.
He hasn't really done that much in this tournament but his goals have ensured Italy will play against Spain in the final this Sunday. A game that could prove to be the most boring final of all time. Hopefully Balotelli will drive onto the pitch in a three-wheeler, accompanied by fireworks and "Hells Bells" by ACDC- or just drop kick the referee, which ever is easiest. His second goal was great to see, it's always nice to see someone hitting the ball as hard as possible and for it to fly into the top corner rather than hit the corner flag.
Those two goals have probably put an end to racism in Italy so we should be happy about that. Now we need Spain to lose. The only thing worse for the Spanish than the financial crisis, is a black man scoring the winner against them in a final. Make it happen.