Ranked as probably joint favourites along with Germany and Spain, Holland are now out of the Euros. Team work wins, by team work I mean get the team to pass to Ronaldo.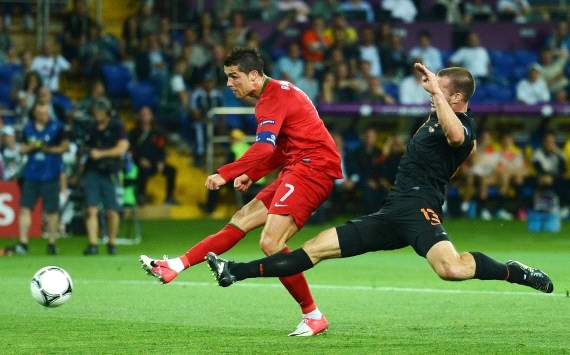 Historically known for attacking football and in-fighting , Holland showed why they cannot win major tournaments. Every player has greedy players who like to shoot all the time, Holland have about ten and they all play at the same time.
Starting with VDV, Van Persie, Huntelaar, Robben and Sneijder should provide enough goals to get a team through many a harsh winter but this did not prove to be the case. Things started well with VDV curling home from outside of the box in that way that only left-footed players can really do. Then Ronaldo said NO!
The powerful, slippery giraffe galloped around like a man trying to prove that he is as good as Messi. He's not but he still put the individual performance of the tournament so far and should have gotten himself a hattrick. Near the end VDV tried to test my statement about left-footed players curing the ball, by doing it with his right-foot but he hit the post.
Holland are now out and Portugal as always have qualified for the knock-out stages. I wonder if the bookies will except my £1m bet that Ronaldo will cry as Portugal are unceremoniously knocked out on penalties?
Do I really need to include the score? I'll go for no.