Two more games were played today, there weren't many goals but I can just make stuff up.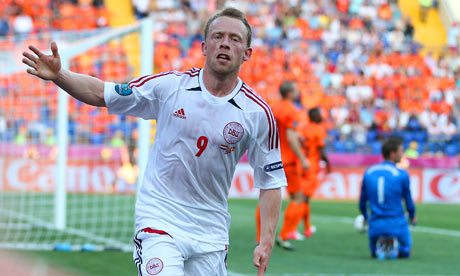 What happened to Holland? They were probably the third favourite after Spain and Germany, but in their first game against Denmark they were a little bit rubbish. If you don't like football, what are you doing here? If you do, you will know that Denmark won 1-0 and turned the Euros on their big, fat, sweaty head.
Holland never really got going and royally pissed me off with their pathetic and incessant claims for a handball every two minutes. Robin Van Persie played like he had a few pints before kick off and had one great comedy slip when played through on goal- which resulted in a fresh-air swipe and him looking like a massive orange dildo.
The games only goal came in the 23rd minute from Denmark's Michael Krohn-Dehli. A cross was deflected into his path and with a dummy and a drop of the shoulder he managed to magically glue both Van Bommel and Heitinga to the ground - allowing him to break free into the box. I don't think he really aimed but he managed to drill a low left-foot shot through Stekelenburg's legs- which is probably the best way to score in football and usually results in me laughing at the goalkeeper just make him feel even worse about himself.
Holland must look at their remaining games and think they could really struggle to qualify from their group. My first advice would be to take Arjen Robben outside, tie him up and belt footballs at him as hard as possible until he starts crying and promises to actually pass the ball to a teammate who is in a better position.
Denmark defended well, that's about all I can remember. Agger should stop getting injured all the time and he'd be really good.