Spain manager Vincent Del Bosque has admitted that Spain haven't really been very good so far but that it's definitely not due to playing 0 strikers. HERE COMES FRANCE, NOT ENGLAND LIKE I THOUGHT FOR SOME REASON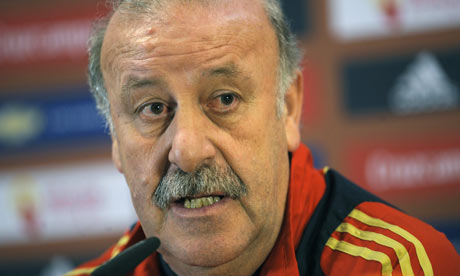 His face looks like a cartoonist drew it, but this man has overseen a World Cup and Euro 2008 victory for his national side in the past and knows what makes a good team. The current performances do not make a good team. He said:
"There was a lack of clarity compared with other occasions,"

"The truth is it was not a great game overall and this should concern us. Things didn't go according to plan."
Thankfully he only has to put 11 players on the pitch to be able to beat France in the
Euro 2012 Quarter Finals
so his brain can take a well deserved break. Maybe Llorente will get a game and justify his inclusion in the squad, or perhaps Spain will start 11 midfielders, playing 'last man keeps' just because they can. Either way, I don't care