Champions League finals aside, Germans know how to win games. A pretty boring game was won by one solitary goal from the head of Mario Gomez. Ronaldo didn't score 20 goals because he bottles it at big tournaments or something.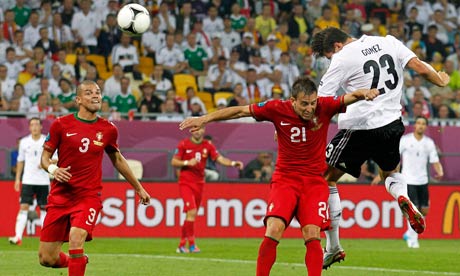 Group B was billed as the group of death - as I write this Ian Wright just burst my ear drums with his stupid voice on Spotify, I will pay whatever it takes to stop this man penetrating my ear holes.
Back to football. With players like Ozil, Nani, Mueller, Ronaldo, Moutinho and Podolski playing I fully expected some goals or at the very least some decent attacking football played. I think someone sneakily swapped the matchballs for those ones you can buy for 50p from your local petrol station and as a result the ball was going all over the place.
Mario Gomez was about to be substituted because he's rubbish in international tournaments don't you know? Luckily just before that happened, he headed home a cross from Khedira. I think Gomez looks likes Marty McFly's dad in Back To The Future.
See. I want to see Ronaldo score a free kick from 80 yards before they leave the tournament at the group stage. Apart from the lack of goals and overall poor quality, the most disappointing thing about this game was Jose Mourinho's son looking like a really shit Justin Bieber look-a-like.
Finally I would like to say that I truly hate Mark Lawrenson. This is a man who played for the Republic of Ireland despite being born in Preston and living in England his entire life, but still had the audacity to have a go at Lukas Podolski for playing for Germany because he was born in Poland. It doesn't matter that he emigrated to Germany at the age of two, what matters is that Mark Lawrenson is a terrible pundit and even worse human being.