Rangers have defeated the SFA and have been victorious in their challenge against their transfer ban. I get the impression that when it's all said and done, Rangers dodgy dealings and massive debts will have pretty much zero impact on their place in Scottish football.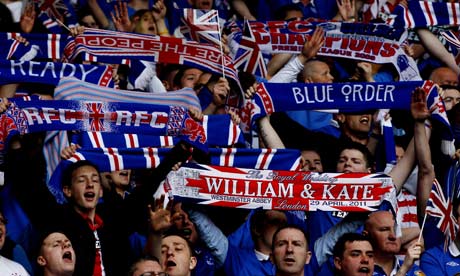 It turns out that Rangers were correct all along and the SFA are a joke. I don't like Rangers but the SFA imposed a sanction that wasn't even on their own list of sanctions in their official regulations. This made it unlawful and makes them look like a gang of buffoons. A person who spoke, otherwise known as a spokesperson said this -
"We are surprised by today's verdict at the Court of Session, especially since the original sanction against Rangers FC was imposed by an independent panel chaired by a leading QC and upheld by an Appellate Tribunal chaired by a Supreme Court Judge.
"We will now consider our position with our legal advisers before making any further comment."
This just keeps dragging on and on, at first it felt like watching an animal die and I just wanted someone to call a vet to put it down. Now it feels like watching someone in an induced coma, chances are they are going to be absolutely fine when they wake up but it could still go wrong.
FIFA will probably be called in to investigate and decide what should be done. Unfortunately FIFA is also ran by a bunch of morons so I don't see this being resolved any time soon. It's good to see Rangers fans getting into the spirit of the Jubilee. Radio 2 keep playing an advert for a special program about the Queen with Robbie Williams' "She's The One" playing in the background, the temptation to drive straight into the barrier at 70mph and burst into a ball of flames has never been stronger.