Somewhere between Sky, Lionel Messi, match-fixing and bribery everyone stopped watching Serie A. Juventus won the league the other day and are on course for an entire season unbeaten.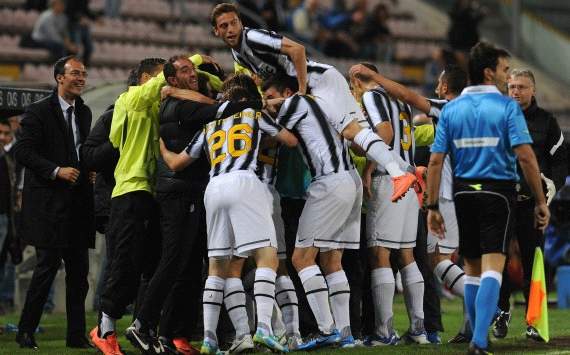 The Old Lady of Italian football won the scudetto with a 2-0 win over Cagliari. My favourite banner simply read "Del Piero - thanks for existing", which is how I feel about gin. Juventus don't really have any superstars these days and it's pretty incredible to think that it wasn't very long ago that they were in Serie B for all that referee bribing and match fixing that went on. Now they are back and this time they didn't need a million dodgy penalties to win the league.
Nobody cares about that anymore and the best thing about all this is the resurgence of Andrea Pirlo - easily one of my favourite players ever. I've actually seen him in the flesh and it was really hard to try an hide my massive erection. Eventually the stewards were called - the police may have detained me and stripped me of my clothes dignity but they couldn't take away the memories.
With one more game in the league at home to Atalanta and the Italian Cup final to play, Juventus could go the entire season unbeaten, which I've heard is a good thing. Of course the Italian league is rubbish since James Richardson stopped doing Football Italia so it's not much of an achievement. They only have AC Milan, Udinese, Lazio, Napolo, Inter Milan and Roma as their main rivals and there's not even a cold, wet, windy night Stoke.
Everyone loves a winner so I'll probably be buying myself a Juventus top this summer. Of course I'll make sure I get the strip from the 93/94 season with Baggio on the back. Remember wearing a football strip can make you look like a chav but if it's old you're retro and cool. I didn't make the rules, this guy did -