Tonight saw a replay of the FA Cup final between Liverpool and Chelsea. Except it wasn't the FA Cup final and it was at Anfield instead of Wembley, so it was nothing like the FA Cup final really. I was all ready to laugh at Liverpool again and then they go and do something like this, beating Chelsea 4-1 and sending Chelsea to the Europa League. Now that is funny.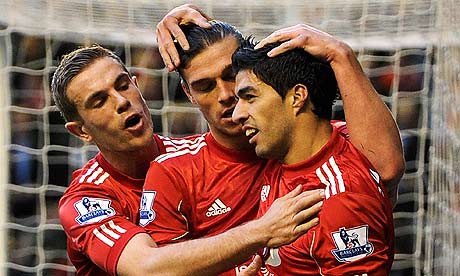 Chelsea will finish 6th this season which us utterly hilarious. They have spent an absolute fortune over the years and find themselves behind Newcastle who still regularly play Shola Ameobi. Unless they somehow beat Bayern Munich in Munich in a couple of weeks, then Chelsea will be in the Europa League playing against people like Shittgobblers Athletic from Listomania.
Liverpool had a lap of honour after the game, fuck knows what they were celebrating. Their 6th home win? The chance to finish above Everton? Christ Liverpool are 8th in the league, that shows just how bad the league has been this year.

Chelsea were an utter shambles in this game and clearly resting many players for the Champs League Final. Downing missed a penalty and continued his fine form of contributing nothing all season long. Suarez acted like a nob-head again just in case we had forgotten. Ross Turnbull is always hilariously bad whenever I see him play. How on earth is he at a club like Chelsea?
Oh well, we have just one game left of the season and there's still the top-spot, relegation and champions league places up for grabs. Isn't football great? Of course the biggest event of this weekend is the fantasy football final day. I am top of my league by 20 points or so with one week left. Can I fuck it up? You bet I will.