Good news for England fans, it has been confirmed that the half-man, half-tug boat Gareth Barry will miss the Euros.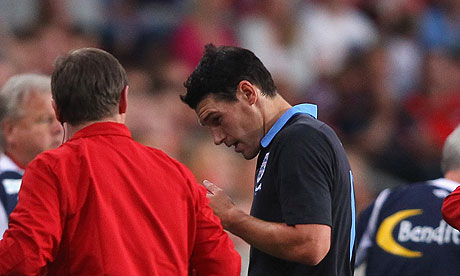 Gareth Barry has a tear to his lower abdomen and will be replaced by Phil Jagielka which makes absolutely no sense to me at all. I like Phil Jagielka but I think Barry is a "holding" midfielder and Jagielka is definitely a centre back, unless Roy Hodgson sees him as a midfielder. There has been a heatwave over the weekend, maybe Roy's brain has been boiled? I'm waiting for Ashley Young to get injured and be replaced by David James.
I was away all weekend enjoying the few days of sunshine that Scotland gets each year so I didn't see any football at all this weekend. Thanks to the internet I know that England beat Norway 1-0 and it sounds exactly what I expect from an England international friendly i.e it was boring and shit. Sol Campbell said that all the black players are going to get killed by crazy racists in Poland and Ukraine so if Roy is going to win this tournament, he is going to have to do it the hard way and that probably means playing Stewart Downing. Won't somebody think of the children?