FOOTBALL! Football was played today and some goals were scored. I imagine somewhere there was a game of two halves, fans cheered on their favourite player, referees were called wankers, Geoff Shreeves was a massive cunt, Liverpool didn't win again and we laughed. What a day we've had. Here is my quick review because I didn't actually watch every game. Or any game.
Sunderland 0-0 Spurs: The first game of the day was a thrillingly shite 0-0 between Sunderland and Spurs. Shots were blocked by defenders and some other stuff happened. Both managers said they were pleased with a point and a clean sheet and we can't make fun of Martin O'Neill because he loves to sue. He sued Football 365 for calling him an idiot once so imagine what would happen if I implied that he was a twat. I wouldn't ever do that obviously because I like him. Nobody in this game really helped my fantasy team at all and I didn't bet on it either so my interest was minimal, as you'll be pleased to learn.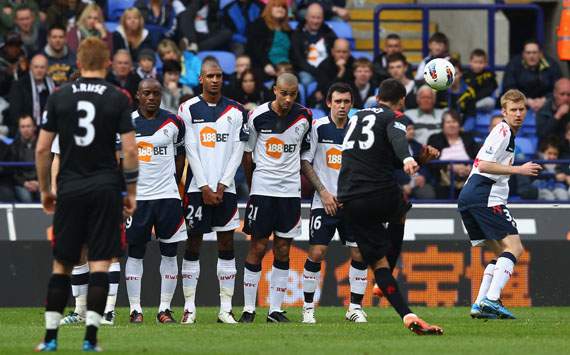 Bolton 0-3 Fulham: Fulham are usually terrible away from Craven Cottage but they forgot about that for just one day and destroyed a rather heartless Bolton. I could probably rephrase that but good puns are hard to come by these days. Bolton are currently trying to save themselves from relegation but you wouldn't know that today, with Dempsey opening the scoring from an amazing free-kick that I have watched on 101greatgoals.com several times because somehow that's something you can do without paying money. Dempsey scored another because he could, and near the end of the game Diarra scored from a counter-attack and ended Bolton with a people's elbow.
West Brom 3-0 Blackburn: I thought Steve Kean was good but then I read that today was Blackburn's third defeat in a row so I instantly assume that this means he is now awful again and so we should all mock him. Foster kept Blackburn out early on but then one of the Olsson twins scored an own goal and Blackburn demonstrated why they will probably get relegated by pooping their pants when they realised they were facing yet another defeat. Two more goals from Fortune and Ridgewell sealed the victory and most likely rewarded Hodgson with a new contract. Woy will become West Brom's highest paid manager of all time, which is almost as big an achievement as when my girlfriend's teddy won "Baldest Bear" at her Brownies' teddy-bears' picnic. (Ed - in-jokes are funny)
Norwich 2-2 Everton: Everyone bangs on about how good Swansea and their delicious passing games are but Norwich are actually ahead of them in the league and today they showed why. They twice went behind to Everton, with SPL reject Jelavic scoring another two goals resulting in resident Scot Paul Lambert being pissed off because there was probably a foul, but I like Norwich and Everton because they are sort of Scottish. Therefore a draw was a fair result. Part-time carpenter/pizza delivery man Grant Holt scored the equaliser to make it 2-2 and if there is a more likeable chap in football than the big man, then my name isn't Jack. Or is it? No it's John, but really it's Jack. Well it's John but everyone calls me Jack, is it confusing to be me? Yes.
Stoke 2-1 Wolves: Wolves are relegated. Not officially but yes, they are. Wolves are relegated and not even Paul Ince or Barney the dinosaur could save them. Stoke will finish safely mid-table and will condemn us to another season of Tony Pulis wearing shit clothes and looking like a miserable twat that picks up golf balls from the course when it's night time. Peter Crouch scored and I was reminded that he cheated on Abbey Clancy with a teenage prostitute when they were engaged, which just goes to show that all footballers, even the ones that seem to be nice, are actually flawed characters. I AM DEVASTATED. I would like to think that he was doing the robot as Abbey walked into the living room and booted him in the testicles.
Chelsea 2-1 Wigan: Roberto Di Matteo almost has Chelsea back to playing like their former selves and today they even scored a stoppage time winner like the Chelsea of old, when they used to rob teams of three points on a weekly basis. Roberto Martinez was majorly pissed off and said he was "disgusted" with officials and reckons that both Chelsea goals were offside, going fully ape-shit after the final whistle in his interview. "Robbed", "disgusted" and "shocking" were all words that he used and all words that will result in the FA handing him a hefty fine as thou must not insinuate that officials favour the big teams. Mata scored the winner in the 93rd minute after a Torres volley ricocheted off the post which is good because it means Torres is almost a real player again. I'm not sure if his or Muamba's recovery is more incredible.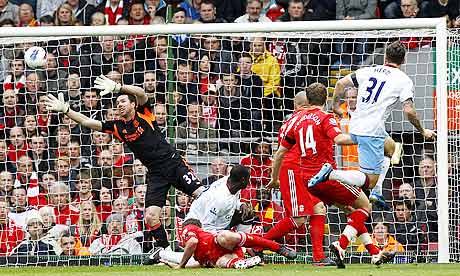 Liverpool 1-1 Aston Villa: Liverpool are so shit just now that they cannot even beat Aston Villa at home. The only person that doesn't think Kenny Dalglish has lost his way now is Kenny Daglish and Andy Carroll kept his great run of form going by missing a header from 6 yards out to win the game. Can someone please just cut his pony-tail off - you can't have any confidence when you look like a lonely student that buys Rustlers burgers from a vending machine.
Luckily for Liverpool they have Suarez to get the goals and a return of a goal every 1000 shots shows the calibre of striker he is. I don't even want to speak about Aston Villa because McLeish has killed that club. Poor Stiliyan Petrov. Watching this shite week after week cannot be helping his recovery but we wish the best of luck anyway Stan, because you seem like a genuinely nice fellow.
If you made it this far then I feel sorry for you but thanks anyway. I love you with all my heart. Please be my friend