Mario Balotelli must be a nightmare to manage and play with but being his friend would be ace. Balotelli managed to piss off his manager and team on Saturday despite scoring two goals and helping to earn an unlikely point against Sunderland.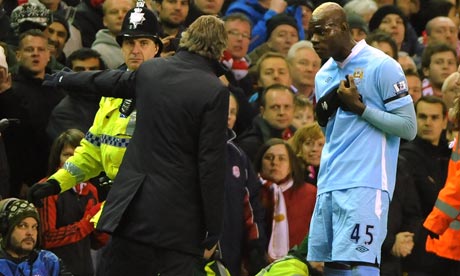 Roebrto Mancini is terrible. He has spent billions and easily has the best squad in the league but yet Manchester United are still probably going to win the league. On Saturday they were 3-1 down at home to Sunderland but managed to come back and scrape a 3-3 to save a point. Balotelli scored a penalty and a fantastic individual goal but also managed to massively piss of his team mates to the point where Toure wanted to kill him and now Mancini could sell him.
During the game he argued with Kolarov over a free-kick. It was really embarrassing but also incredibly funny, certainly not offensive and "disgraceful" like the media always whine on about. In the changing room after the game, Toure told Balotelli he was being a dick so they squared up and had to be pulled apart by Kolo Toure, who played the overweight bouncer role.
It's believed that Mancini has lost trust in young Mario and is prepared to sell him this summer. If he was to leave it would be a travesty for the league. Without Mario's mentalness what would we even talk about? "Oh look, Michael Owen is being really boring on Twitter again". "Ashley Cole and John Terry are still dicks". I much prefer reading about Balotelli riding around Manchester on an elephant, handing out Easter eggs to school children. That's not happened yet but I'm hoping it's given him an idea.