Stillian Petrov is a lovely chap and I wish him all the best in his fight against leukemia. Aston Villa have decided to help in the only way they knew how, naming a pie after him.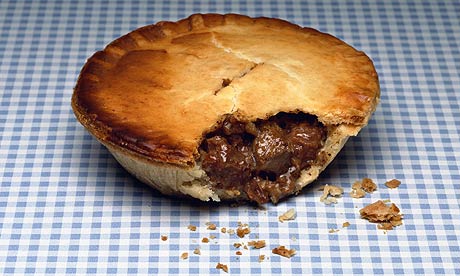 The Petrov pie has all the power of chemotherapy but in a delicious edible meat and pastry form. All proceeds from the pie will go towards the Cure Leukemia charity. As for the pie itself, it will be made from chicken, leek, Bulgarian kefta meatballs, cancer eating micro-monsters and contains at least 2% meat.
Supporting Aberdeen, the only thing that attracts me to Pittodrie these days is the promise of a magical Pittodrie- pie. Despite their stroke-inducing salt content and unidentifiable meat contents, nothing can compare to the magical taste of a pie at the football. They can also be used as missiles to throw at away fans who annoy you and as objects to throw in the air in celebration as your teams scores- covering everyone around you in a beautiful mix of gravy and tomato ketchup.
Currently I am unable to play football after injuring my ankle in a bizarre badger-related incident. If anyone can come up with some kind of edible cure, please sent the goods to Jack, The Fitba Thatba Castle, Fitba Street, Fitba Land