It was the final old-firm game of the season and it was as one-sided as it could possibly me. The soon to be named Blue Shark Knights were completely out-fought, out-played and out-everything'd by the Glasgow Celts.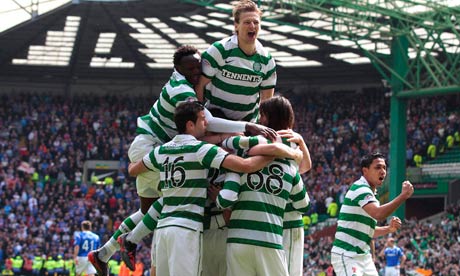 Events off the pitch resulted in this being a rather subdued old-firm derby. Celitc fans did their jumping up and down whilst facing the wrong direction shite and sang about jelly and ice cream. Rangers played like a team terrified of what is going to happen to them when the season finishes.
Charlie Mulgrew who has somehow turned into the best player in Scotland, opened the scoring with a diving header from a corner. Rangers made sure the posts were well marked but forgot about Mulgrew who is a human being who can run and head footballs. Kris Commons scored the second, he looks a bit fat these days but thanks to some good work from Gary Hooper he was played clean through, nutmegged Bartley and then dinked the ball over Alan "shagger" McGregor. Hooper got the third, hammered the ball into the roof of the net. We all know the SPL is rubbish but look at how well Jelavic is doing at Everton, Hooper should at least get called up for an England friendly. Only then can you laugh and pour scorn on our terrible standard of league.
Yesterday a few thousand, perhaps seven thousand ( I don't know, I didn't really pay attention to the news piece I saw) Rangers' fans marched to Hampden stadium to protest against the SFA's treatment of Rangers. You see it's their fault that Rangers are in so much debt and are not allowed to sign players over 17 for a year. It's definitely not David Murray, Walter Smith and Craig Whytes fault. The SFA should have stepped in earlier and said, "hi chaps, do you think you could maybe stop spending millions of pounds you don't have?". Then this whole mess would have been avoided. If the SFA go back on any decision they have made then it will be the biggest act of cowardice since the French's effort in World War Two. Too offensive?