When Wolves got rid of Mick McCarthy they had a master plan that would redefine football management as we know it. They searched far and wide to find a suitable candidate for the job and when no-one wanted it they decided to hire Terry Connor. Everyone's happy!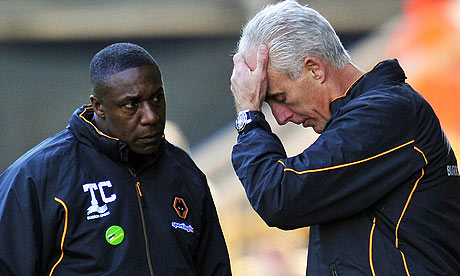 Since galvanising the entire of Wolverhampton with his step up to top flight coaching stardom, Connor has successfully navigated the club in to a parking bay directly within the relegation zone, even managing to lose to Blackburn on the way. Replacing McCarthy with Connor is the most pointless and ill thought executive decision I can remember since god decided to invent other religions.
If rumours are to believed, owner Steve Morgan wants a younger, up and coming manager like Crystal Palace's Dougie Freedman or Brighton's Gus Poyet to take charge once this season is over, and believes that buying Connor tickets to a Kanye West gig should lighten his spirits once he's gotten rid of him as well, since he will definitely, definitely be fired at some point. Because who doesn't like Kanye West?
I have no idea what Steve Morgan actually looks like so I searched for some pictures of him
on google
on our picture agency.