Last night we had some FA Cup and Champions League action. Things went as predicted in the Champions League so to the semi-finals we go!
Roberto di Matteo has managed to turn Chelsea from a boring team that struggled to win games, into a boring team that does know how to win games. Fernando Torres continued to show that he is now a winger and not a striker by bursting down the right hand side and playing a perfect ball for really shit-but-good Kalou to score and win the game 1-0 against Benfica. Bob di Matt said that the tie is not over, it is. Chelsea are going to be in the semi-finals of the Champions League. The world confuses me.
In the other Champions League game, we saw the mighty Cypriots Apoel Nicosia taking on Real Madrid. Could they spring one of the biggest upsets in Champions League history? Of course they couldn't idiot! Ronaldo not scoring was about the only real surprise about this tie, which Real Madrid won 3-0. It's good to see Kaka back, he's not quite the player that made Man Utd's back four look like complete retards a few years ago but he's still Kaka to me dammit!

The ancient Mayans predicted the end of the world in 2012, could it have something to do with Barcelona and Real Madrid playing each other in the Champions League final? If Messi does a John Terry, hits the post with his penalty and loses the final, the universe could very well implode.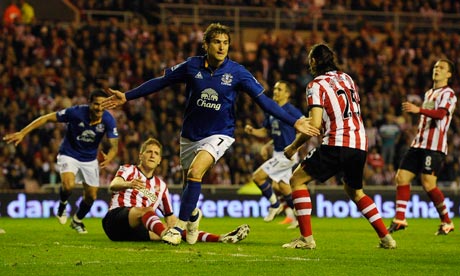 Everton beat Sunderland 2-0 in the FA Cup to book their semi-final place against Liverpool. They will almost certainly get their bottoms spanked because David Moyes is terrified of Liverpool. Jelavic scored again, proving just how ridiculous it was that he was playing in the SPL earlier this season. Good to see the money Everton paid for him, helped Rangers with their financial troubles. Sarcasm is funny but not as funny as the demise of the Glasgow club, start the liquidising machine.
Not much needs to be said about the Spurs game, they absolutely hammered Bolton and should have won about 5-1. They won 3-1 in case you wondered. That result sets up a semi-final against Chelsea on Sunday the 15th of April. Chelsea (should) actually have a Champions League game three days after the semi-final so want the game to be played on the Friday before. If an FA Cup semi-final is played on a Friday then we might as well just go outside and start kicking footballs at old ladies, eating each others's brains and defecating on the street, football is dead. I'll most likely just stay inside and write about it instead with a cup of tea and wait for the whole thing to blow over.