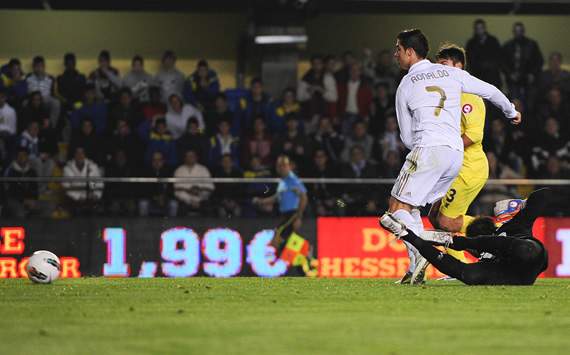 Real Madrid weren't exactly are their best but took the lead through an excellent Cristiano Ronaldo goal. He played a 1-2 with Ozil, who back-heeled a through ball for Ronaldo to collect, round the keeper and score. However, yet again they were undone by a late free kick. A few days ago Santi Cazorla scored an absolute peach for Malaga. This time it was Senna who trundled one into the corner. The free kick was from almost exactly the same spot and he went to the same side as Cazorla did, Casillas really should have learnt his lesson from before and you could clearly see his "I fucked up face" after it went in.
Jose Mourinho and his Madrid team are well known for their gracious behaviour when things aren't going their way. That continued tonight with Mourinho being sent to the stands for going ape shit on the touchline when Senna scored, Sergio Ramos getting sent off for an assault on Nilmar and Ozil seeing red for presumably calling the referee a whore.
Only a couple of weeks ago it seemed that Real Madrid would walk the league and Barcelona had all but accepted they would have to make do with another Champions League. Suddenly things are not looking so clear cut. Ronaldo only needs one more goal to become the quickest player ever to reach 100 La Liga goals but no matter what he does, he will never be as good as Messi and that must be really annoying. In fact I bet it's not, I'd rather be a 6ft+ adonis than a midget with a shit hair cut. And believe me I know, because I am a midget with a shit haircut.