McLeish used to think N'Zogbia was a dick but then he scored a goal and now they are best friends, hurray!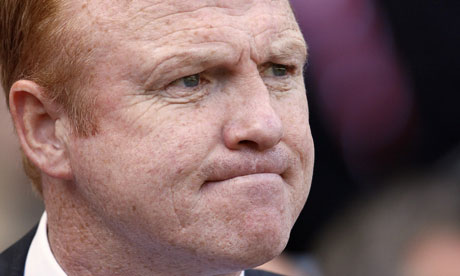 That face sums up the typical N'Zogbia performance Aston Villa fans have had to endure this season. It was clear to all and sundry that Alex McLeish wasn't exactly a fan of Charles N'Zogbia for most of the season and the Scottish manager has now even accused him of being more interested in cars than football. This is definitely true but it still upset poor Charles. Aston Villa paid £9.5m for him - how hard did Wigan laugh when that bid came in?
However things could be starting to improve. He got himself a goal recently and seems to be back in McLeish's good books. The Zog has said they "believe in one another" even though I don't really know what that means. In regards to the cars comment, all is forgiven because McLeish wasn't talking about N'Zogbia in particular, he meant that
all
footballers should think about football first and then cars. Ahhhhhh:
"The most important point is that I'm very happy to be an Aston Villa player. I appreciate that the manager brought me here and I want to repay this by performing well for the club"
What a consummate professional. To come out in March and say you are going to repay the manager and play well with 10 games left of the season shows incredible drive and determination. Let's see if he can add to those two goals he's got this season and really help Aston Villa push for 14th. Imagine finishing above Stoke? There's absolutely no chance any Aston Villa fans thought that was possible before the start of the season, Alex McLeish is a miracle worker.