This game is still being played but it's probably OK for me to write about it. I'm pretty sure Bayern Leverkusen are not going to score 9 goals in the next ten minutes. Messi probably will.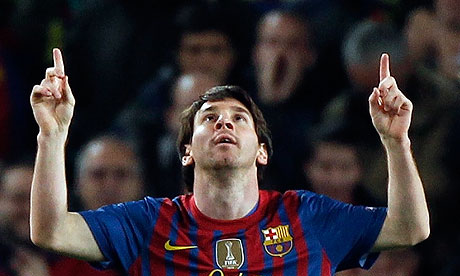 It's currently Barcelona 6-0 Bayern Leverkusen and there's about 15 minutes left. Only the 4 goals for Messi just now but plenty time for more. If this was a boxing match the referee would have stopped the fight, hopefully Robin Dutt would have long thrown in the towel. This is an arse-whooping of the highest order.
Messi is on fire. There was an old basketball game called NBA Jam where your players would literally go on fire. You could sink 3-pointers from that half way line and do treble-somersault slam dunks. That is pretty much what happened to Messi tonight, his right-footed lob over the keeper and the touch with his left that preceded it were just ridiculous.
I'm not sure of the exact stats but I think that Messi has now scored 2,000 goals for Barcelona. How hard does he wish he was Spanish? The fans don't even like him and he has to put up with the "he doesn't try for Argentina" shite. There will never be another Maradona because he was an unbelievable player and a complete headcase. There will never be another Messi because he is the most naturally gifted footballer that has ever been born and I know this because I am 25 and have YouTube.
And he has just scored his fifth.