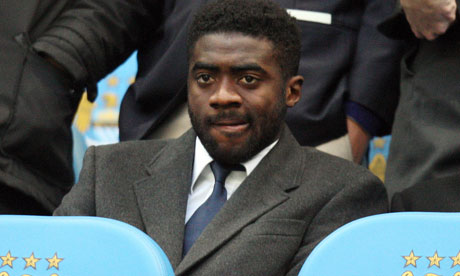 Poor Kolo was banned from football for six months for failing a drugs test. It's reported that he was obsessed with his weight and used his girlfriend or wife (I can't be bothered to check) ' s diet pills. It probably would have been a better idea just to to not eat his own body weight in one sitting. He missed out on winning the FA Cup with Manchester City because of this and admitted that it made him angry. I can understand why he was angry, Adrian Mutu had a coke-fueled sex marathon with a porn star and got banned. Toure took diet pills to control his addiction to Big Macs and got banned.
Well it's all good now and Kolo is confident that soon he will be lifting the Premier League trophy. He's compared this City team to that of the Arsenal "invincibles" -
"The quality is the same because we had 24 great players at Arsenal and here is the same, we also have 24 great players."
There is one major flaw here. Arsenal were unbeaten for an entire season, that is absolutely ridiculous when you think about it. City have already been beaten three times. If Arsenal hadn't been going for their 50th game unbeaten against Manchester United, who knows how long that run would have gone on for? We will never see a team in England better than that Arsenal team and I don't even support them. I don't even like them.
I can't remember what I was talking about. Oh yeah, fat people. Gross.