Jack Charlton is famous for being the brother of Bobby Charlton and taking Ireland to USA94. I think he might have won a World Cup as well. He is now the proud owner of a brand new hip.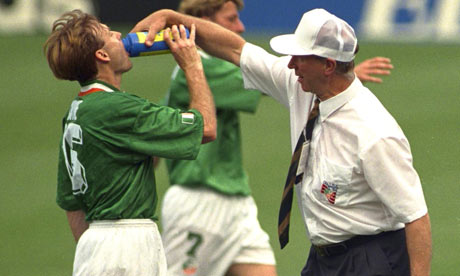 Falling down the stairs hurts. It hurts even more when you are 76. Jack's wife was out of the house when he threw himself down the stairs. He managed to get to the phone and call his son Jack junior. When his son arrived, he found his Dad chilling on his favourite chair watching Game of Thrones.
Only after the episode finished did Jack senior let on that he had probably broken his hip. He was taken to hospital on Thursday night and got a hip replacement this morning. Everything went well and he is expected to be released on Monday. It's reported that he did bump his head and when he woke up, he realised he wasn't Irish.
It's probably in bad taste to make light of an old man who fell down the stairs but in my defense he is going to make a full recovery, plus he is a human and I am a human so therefore I am allowed to make fun of everyone without fear of repercussions. Hiding behind a keyboard, the best place to hide.