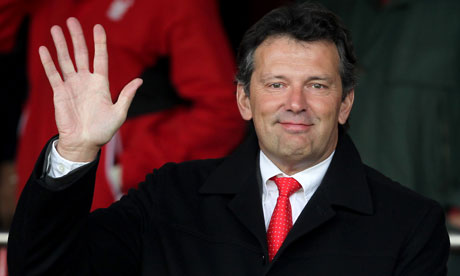 Derby fans were probably quite pleased with themselves when they made up the chants, "where's your chairman gone? (where's your chairman gone?)" and "you're going down with your chairman", when they were playing against Nottingham Forest last night.
Unfortunately football fans sometimes seem to forget that they are in actually in real life. Football isn't some weird, made up fantasy Sky TV world. Imagine going up to someone you didn't like in the street and singing "your Mum's dead, your Mum's dead, your Mum's dead"? It's not something I've ever found myself doing but perhaps I'm different? It's really not an acceptable thing to do and can cause great confusion when their Mum is not dead.

Manager Nigel Clough and chief executive Tom Glick, have quickly come out and condemned the fans who took part in the chants. It was only a small minority of course, it always is a small minority when these things happen. Obviously it's not a small minority because it's loud enough for everyone to hear.
I believe Nigel Doughty's Father was in attendance of the game, the poor bastard had to sit through this terrible game, watch his side get beaten by a last minute goal and then put up with the chanting. I hope his wife got into the spirit of steak and blow-job day but I don't think even that could cheer him up.