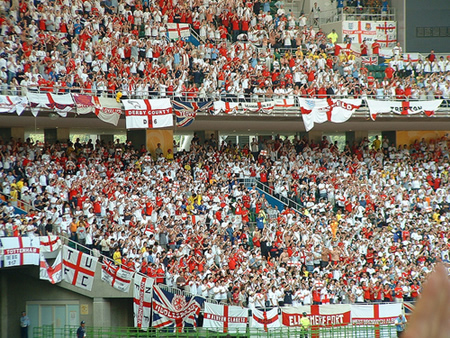 That ladies and gentleman is what hell looks like, or a Rangers' home game, I'm not quite sure what the difference is. UEFA have confirmed that there are still tickets available for all of England's group games in the Ukraine at this summer's European Championship. Michel Platini is still confident that all the games will eventually sell out and he's probably right.
In the mean time, I'll laugh and assume it's because England fans have realised their team is extremely average. I am Scottish and know we are terrible so I've never had to deal with the feeling known as "disappointment" when your team go out on penalties. My Mum says it's what she feels every time she looks at me but when I look in the mirror I see Ryan Gosling so there's clearly something wrong with her.
England could feasibly not make it through the group stages and yet again will have to go through a tournament without Wayne Rooney. Usually he's there physically but doesn't actually do anything so I cannot really see the difference.
I just looked at the groups, have you seen Group A? Poland, Greece, Russia and Czech Republic. "A" must stand for "A" bunch of games that I definitely won't watch. ITV can have that group. To raise money for Sport Relief, I tried to sit through 90 minutes of ITV's football coverage. Unfortunately Andy Townsend came on and I had to beat the television to death with my bare hands.