Barcelona are the best team in the world, don't let the La Liga table fool you, it's not real. Just llike global warming and gravity. As they win almost everything, almost all the time, when things don't go their way they tend to complain. "We are Barcelona, how dare you stop us playing our beautiful football!, they cried as they lodged an official complaint with UEFA.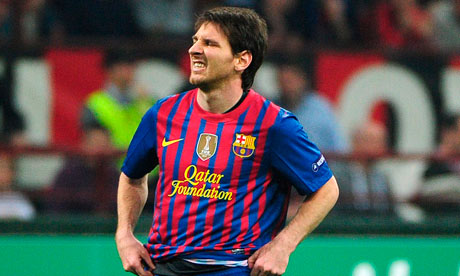 What would it be like to play football on the moon? A question Messi has pondered a few times in his head, last night was probably the closest he will get to that, trying to maneuver himself through the San Siro's giant craters. Fair play to AC Milan, the easiest way to stop Barcelona playing is to completely ruin your pitch by turning it into a driving range the night before and make Barcelona's typical one touch stuff almost impossible.
In case you don't like football or actually live on the moon, AC Milan held Barcelona to a 0-0. There were two blatant penalties not given to Barca as well but everyone wants Bayern Munich to win the Champions League surely so everybody cheered.
Pep Guardiola has lodged an official complaint to UEFA about the state of the pitch and believes it ruined the spectacle. Milan have said they will get a new pitch for next season but obviously changing it now probably wouldn't work since they still have to finish their own season and concentrate on winning games themselves. How dare you not have it ready for the all conquering, all powerful Barcelona! How dare you deprive the world of Barcelona's football! You Maniacs! You blew it up! Ah, damn you! God damn you all to hell!