Finally some good news for Aston Villa fans. Remember the other day when I said their sheer awfulness was responsible for sucking out my life force? Well Big Eck obviously read my article and now he's promised to sign the very best players from around the world. The best players available on free transfers that is. Oh dear.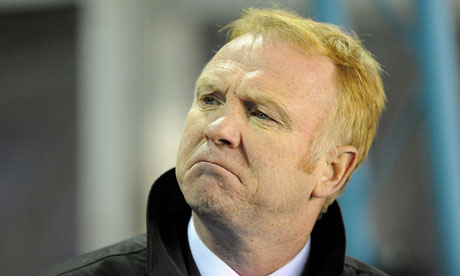 Alex McLeish and Aston Villa owner Randy Lerner have been meeting up a lot over the last few weeks and have formulated a masterplan. It involves letting as many players leave for free as possible, this will free up wages and they will replace these players leaving for absolutely nothing by signing out of contract players from other clubs. Genius
1. Let players go for free
2. Sign players for free
3. ???????????
4. Profit
Apart from one major flaw, 99 players who leave on a free are really shit. Combine this with Aston Villa having the pulling power of Ian Dowie and who are they going to sign exactly? McLeish has said that the scouting has already begun to find the best possible bosmans to sign at the end of the season. Why doesn't he just download the Football Manager Genie Scout progam and set the Potential Ability to 170+?
Don't be too down-hearted my dear Villa fans, McLeish does have plans to spend a bit of money.
"I can assure the fans we will be in the market for players who cost money but we only be targeting a couple of those types of players."
See, you could be buying
two
players who "cost money". If that doesn't excite you then you are probably already dead. The future is bright, the future is McLeish. Get it? He's ginger and shit like those Orange adverts.