I'm somewhat in shock and had to read this on about five different websites (except this one - ed) before I really believed it was true. Arsenal are going to sign Lukas Podolski? But he's a real player with like almost 100 caps for Germany. The times they are a changing.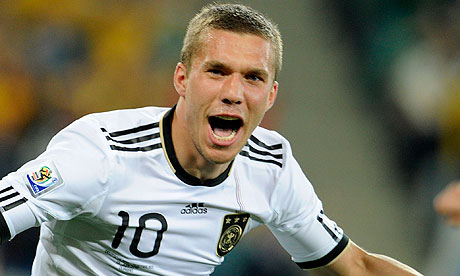 If reports are to be believed, Podolski turned down a trillion dollars from Russian club Anzhi to sign for Arsenal instead. The fee is in the region of £10.9m and his wages will be about £100,000 a week. For no real reason, I bloody love Podolski. I love him even more after reading this,
"Money is not the most important thing for me, what is crucial is the development of my game."
He's got 16 goals this season for FC Koln, which is very good considering that they are a bit rubbish and he is only 26. Everything about this transfer looks and sounds good, which means it's probably going to end up being a complete disaster. The secret for Arsenal is to make sure he always wears a Germany top underneath his Arsenal jersey. He has 43 goals in 95 caps, that is almost as impressive as my record at 5-a-side.
Arsene Wenger hasn't actually confirmed a deal has been struck yet so perhaps we shouldn't get too excited. He will probably end up back at Bayern Munich, Wenger will spend £10m on a 13-year old and Arsenal still won't win anything next season.