I'm writing this in between vomiting into a bucket at the sight of Liverpool players kissing the Carling Cup, with "never walk alone" playing in the background.. They beat Cardiff 1-0 on penalties.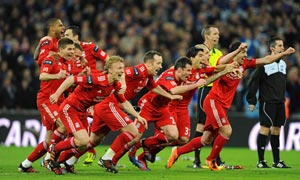 I was hoping for the hilarity of last years final, when Birmingham beat Arsenal. For a while I dared to dream, when Cardiff went 1-0 up through a stone-mason or a builder. Or maybe his name was Mason? I'd never heard of him before but he nutmegged Reina to put Cardiff 1-0 up. Liverpool had about 100 corners and managed to score from one of them, thanks to the evil alien emperor known as Skrtel.
Holland's number one Sloth (from The Goonies) impersonator Dirk Kuyt, came off the bench to score in extra time to put Liverpool 2-1 up. At this point, Cardiff's players were so tired they could hardly move, let alone play football. Somehow they managed to get a goal right at the death to force the game into penalties. The penalties much like the game, were a complete shambles. Gerrard's was saved, Miller hit the post, I think Adam's penalty actually left our atmosphere. Cardiff's Gerrard missed the penalty that mattered and Liverpool won 3-2.
Don't let BBC fool you into thinking this game was good. It wasn't. BBC have about 5 live games a year. They think if they say "what a great game" enough times, eventually we will agree. This game was awful, which is fitting for the Carling Cup. Cardiff did absolutely fuck all and Liverpool slightly more. Unfortunately when Liverpool play Carroll, they forget about that space on the pitch between their midfield and the strikers. Rather than keep the ball, they sought to seek out the forehead of the pony-tailed grease-ball from every conceivable position on the pitch.
It's easier to write when I'm annoyed. I ensured this happened by choosing to watch the game on the BBC, rather than Sky. Listening to Mark Lawrenson's co-commentating and Hansen's analysis is enough to enrage even the most amiable of folks. I'm sure even the Dalai Lama was at home screaming obscenities at the television and wishing death upon his cat, who just so happened to start meowing and rubbing against his legs as the first penalty was taken.