Jack Warner is one of the dodgiest people in the world and once resigned from his position as FIFA Vice-President so that they would stop investigating him over various financial irregularities. Now there are fresh allegations being made by the Trinidad and Tobago Football Federation (TTFF) which if found to be true, will confirm that Jack Warner is one of the worst people in the world. Ever.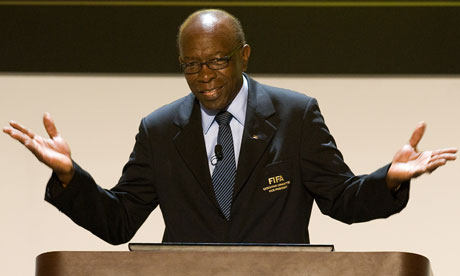 Remember that huge earthquake in Haiti? The one that killed about 300,000 people and made about 1million homeless? Well, £440,000 of FIFA emergency aid money was paid into an account two years ago. This account was controlled by Jack Warner. That money has disappeared.
Jack Warner is refusing to explain what happened to the money and until he does, FIFA will no longer provide any funding to the TTFF. They are also withholding his pension, which is reported to be £30,000 a year. £30,000 to Warner is the equivalent of losing a pound down the back of the sofa. What a deplorable human being.
FIFA were investigating three separate corruption and bribery charges against Warner last May and to avoid being found guilty and face any punishment, he just resigned. Upon his resignation, FIFA just ended the investigation, showing just what a bunch of corrupt bastards they truly are. Warner even asked the former English Football Association chairman Lord Triesman for a £500,000 donation (bribe) for him to buy the rights to show the World Cup in Haiti on big screens. For the survivors of the earthquake obviously. Because the only thing that can solve the heartache of a dead relative is the wondrous sound of a vuvezela.
Had Triesman agreed, Jack Warner would have made almost £1million out of one of the worst natural disasters of all time. He's not in jail. Incredible.