Suuuuuuuuuuuuuper Sundaaaaaaaaaaaaay! It was another "Super Sunday" and we had some super soccer action in our nation's capital. The Chelseas were defeated 3-3 by the Red Devils of Manchester.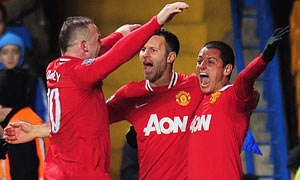 Hernandez in no way looks like a screeching lesbian in that photograph. At one point Chelsea were 3-0 up and should have been cruising. There was an own goal from Evans in the first half and then things went mental in the second half. First of all Mata side-footed a ball on the volley, harder than any human has side-footed a ball in history to make it 2-0. This was swiftly followed by a Rio Ferdinand own goal, shouldering the ball into the top corner.

Then Howard Webb said NO! Evra was pretty terrible in the game but he won a penalty which Rooney smashed into the top corner. Webb then said YES! And he gave another penalty to United for a "foul" on Welbeck, who cleverly tripped over Ivanovic's standing leg. Rooney dispatched the penalty low to his right and it was game on.

At this point it was obvious that United were going to go on and score a third. It was melty-faced lesbian Chicharito who made room for himself and had a free header from 5 yards out, which he scored in case that wasn't obvious. Torres had an easy chance right at the end but he remembered that he's still really shit and has no confidence so he decided to get tackled, rather than shoot. Right at the end Mata had a curling free-kick brilliant saved by David De Gea, who will now have some friends until he cocks up in the next game he plays.

All round it was a jolly entertaining way to spend a Sunday afternoon and I give this game a 8.5/10.