We are down to the last 16 of the Champions League. Make that 14 (Barcelona are through already...they are). Arsenal just got hammered 4-0 by AC Milan.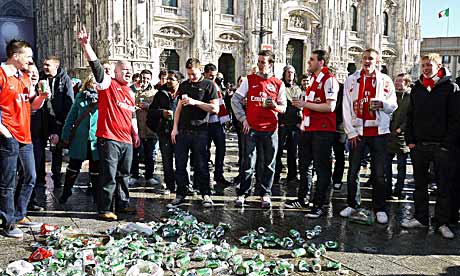 AC Milan made a lot of people look extremely stupid tonight. Serie A has just a little bit more respect than the SPL from a lot of English football types but tonight should give them all a massive kick in the testicles and made them realise that the Premier League is definitely not the best in the world and Zlatan Ibrahimovic is a fantastic player, with a really shit haircut and terrible facial hair.
The Manchester clubs were relegated to the Europa Category B Bronze Shield so it left Arsenal to carry the torch for the Premier League. Unfortunately they slipped and set themselves on fire. Gooner fans were in high spirits before kick off; suitably drunk, they had done themselves proud by littering the streets and throwing bottles at the police. I can only imagine how delighted they were when an ex-Spurs' player opened the scoring.
Kevin Prince Boateng opened the scoring with an absolute peach - a dipping half-volley off the under-side of the bar. My exact reaction was "ooya fucker!". Robinho proved with his first goal that the offside rule is an absolute farce. In fact both he and Ibrahimovic were offside in the build up to the goal but somehow nobody noticed. I say nobody, I mean everybody in the world except the referee's assistant.
At half-time I assume Arsene Wenger said something like, "we are Arsenal! let's show them how we play football" (he definitely didn't say anything like that). His defenders listened and defended in the proper Arsenal way. Robinho's second goal came from a result of the entire Arsenal back-line falling over, allowing him to pick his spot from 18 yards. Djourou yet again showed us that he is a complete clown, bundling over Zlatan in the box. The giant bird confidently dispatched the penalty low to the keepers right.
Arsenal are as good as out and it was a pretty terrible way for Thierry Henry to say goodbye again, but he didn't look particularly bothered at the final whistle. He's off back to a concrete jungle where dreams are made of, there's nothing you can't do. Vermalen is probably wishing this game was a bad dream but he was fucking dreadful. Sorry Thomas, no matter how hard you pinch yourself you are not waking up from this one.