Today was the North London derby. Before the game most of us expected Arsenal to scrape a draw, if they were lucky. Things didn't exactly pan out that way.
Things looked ominous in the early stages of the game and Arsenal's defending was absolutely hopeless. They decided that the best way to defend against a counter-attacking team was to have a defensive line that was just about at the half-way line. Louis Saha opened the scoring with a hilarious, deflected effort that looped up over the keeper, Gareth Bale proved once again that it's not just those foreign types that cheat, by clearly diving to win a penalty and Arsenal favourite Adebayor dispatched his penalty expertly to make everyone think "this is going to be embarrassing."
We were right, except it wasn't Arsenal who were embarrassed. Fuck knows what happened to Spurs after they went 2-0 up - they seemed to completely stop playing and Arsenal managed to get it back to 2-2 before half-time. In the second half Spurs put up about as much defense as the French did in World War Two and Arsenal completely tore them apart, letting even Theo Walcott score twice. Rosicky scored his first goal in about 10 years, Sagna showed off the world's stupidest hairstyle with a headed goal and Robin Van Persie got his token goal. It finished Arsenal 5-2 Spurs. Ridiculous. There is absolutely no order to those goal scorers.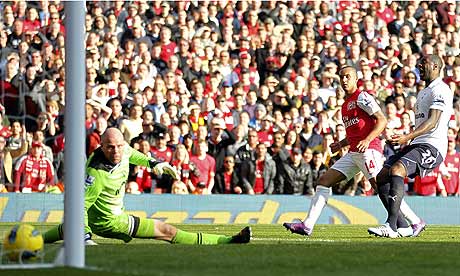 Arsenal notched up their 5th in the 68th minute. The game was completely dead and buried and we were treated to 20 minutes of "ole"s - perhaps the most irritating thing in football after Geoff Shreeves. Will this kick-start Arsenal's season and have them end up finishing 3rd? Perhaps Spurs will have a meltdown and Harry Redknapp will leave early for England? I'm not reading too much into this since games between the top 6 this year have been a total nonsense. Next weekend sees Spurs host Manchester United at White Hart Lane. I expect 20 goals, three sendings off, two foxes, one badger and a naked Keith Chegwin performing at half-time.