Fat footballers are probably my favourite thing in the world. There are players who are called fat but clearly aren't; Rooney, Lampard, Gant Holt, Kolo Toure. There are players who are genuinely fat; John Parkin, James Beattie, Andy Reid. Then there is Adriano.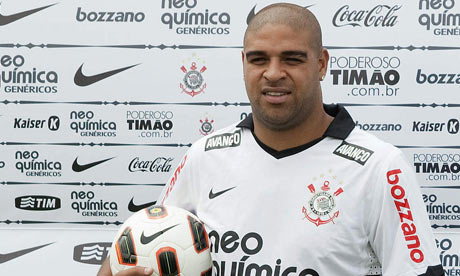 That is Adriano, former God of Pro Evolution Soccer and one point considered one of the best strikers in the world. His club Corinthians, have demanded that he stays in the team's hotel so they can keep him under constant supervision. The aim is to stop him eating everything and going out to party his tits off every night. Security staff are working 24/7 to make sure Adriano cannot escape, although there was an uncomfortable moment when it became apparent that he had tried to eat another hotel guest. Adriano claimed it was an accident and he just wanted to quench his insatiable appetite that he built up during a particular hard day of drinking and womanising.
Corinthians have fined him many times for missing training and are at the point where they will probably just give up and let him eat himself to death. However if he continues to get any fatter, he will probably place himself under house arrest anyway because his arse will be too big to squeeze through the hotel entrance.
I suggest we team him up with Ronaldo and we have a show based on the Hairy Bikers. However instead of a camera crew following two sexually frustrated, obese, pretending not to be gay men cruise around on motorbikes jizzing over pork pies, it will be two awesomely fat football legends, going around Brazil partying and eating constantly, pushing their bodies to the limit. In the final episode Ronaldo and Adriano have a race where they have to eat an entire cow whilst dribbling around the Brazilian Women's volleyball team, before taking a penalty against Taffarel.