Lee Steele plays for Oxford City, the most manly of all the English cities, but he has just received his p45 for making "homophobic" comments about a gay rugby star, on Twitter.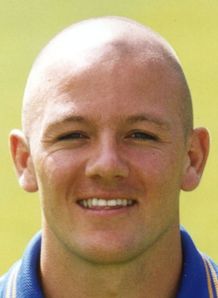 image from sky sports.com
Gareth Thomas is a former Welsh rugby union player who came out as homosexual, and currently appears on Celebrity Big Brother, which I didn't know still existed. Commenting on the show, Steele tweeted:
"I wouldn't fancy the bed next to Gareth Thomas #padlock my arse"
Oxford City then sacked him for making inappropriate comments, which is fair play, because as former rugby union player and head of an anti-homophobic and bullying foundation, Ben Cohen says, "
"If you are a sportsman you're a role model and people look up to you no matter what division you're in."
This kind of role model behaviour set by the relatively unknown Oxford City is exactly the kind that we need in this day and age, which is why I've sent this article to Kenny Dalglish in the post. I'd imagine he'll just open it and go "that's ridiculous - firing someone for that? That's nonsense" because rugby is literally the gayest sport on earth. What's more gay? Two guys sharing a romantic evening together, holding hands and ending it with a kiss, or 20 totally pumped dudes feeling each other's balls, wrestling each other to the ground and showering naked together at the end?