Hallelujah! Darlington have been saved! Praise Jesus! Or the Darlington Football Club Rescue Group.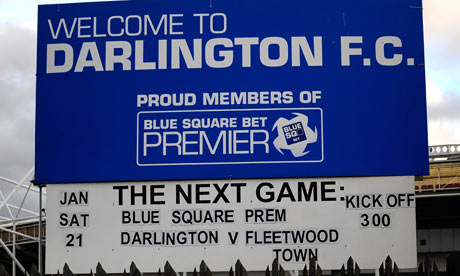 from the Guardian
Yes Darlington F.C have been saved for another three games. Apologies if this article is a shambles, I am currently watching El Classico which really puts this into perspective. The Rescue Group managed to scrape £50,00 together and beg the administrators to allow the club to keep going. £50,000 is enough to keep the club going for another two weeks. It is also less than Messi and Ronaldo make in one day.

In order for Darlington to survive, a few things will need to happen. First of all they need to move out of their ridiculously too large stadium, find a money tree, strike a deal with the devil and suck many a penis.

Currently they have nine players registered with the FA, plus seventeen scholars. This allows them to field a team of drop-outs and misfits in their next game against Fleetwood town. At first we will be like, "check the look of these guys, they've got no chance." "Yeah that guy up front, what's he, like 40?". They will be 2-0 down at half-time before a miraculous recovery. They then go unbeaten for the rest of the season. They won't win promotion but they will win the hearts of the nation and learn that sometimes there is more to life, than winning. Starring Rob Schneider.