Michel Vorm's last name sounds exactly I would describe the noise you make when trying to describe what a light sabre sounds like, and because of this both Chelsea and Manchester United want to hire him to have intergalactic space battles. Ha ha only joking guys!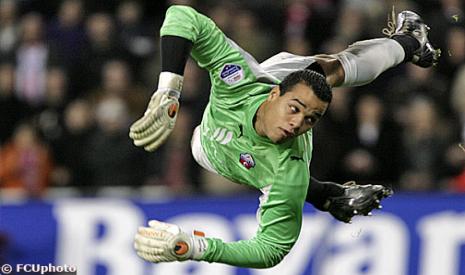 from netherlands.worldcupblog.org
Actually the Swansea and Holland international has been attracting managers and scouts Europe wide after sometimes single handedly keeping his club in Premiership matches. And sometimes double handed too, right? 'Cause he's a goalkeeper! HO HO HO HO. The elastic fantastic Vorm, as he should be known is being lined up by Chelsea as a potential replacement for Peter Cech because he is shit, and by Manchester United to teach David De Gea how to prevent goals from happening. The man himself has said:
"I love it here at Swansea. I'm enjoying my time and I haven't really thought about it (leaving).

"My focus is on Swansea.

"The main thing for me is to maintain my form throughout the whole season and to stay up with Swansea." Vorm made a series of excellent saves during an opening defeat to Manchester City, and again at Anfield as Swansea shut out Liverpool to claim a point.
I think it's safe to assume that the moment he gets to visit any another city for a reason other than playing football, he's going to run away. That's if he realises that the "force-field" Brendon Rogers has put around the town is made up.