Happy New Year friends. My resolution is to actually do some fucking writing. What better way to start the new year than by watching Arsenal balls up a 1-0 lead and lose 2-1.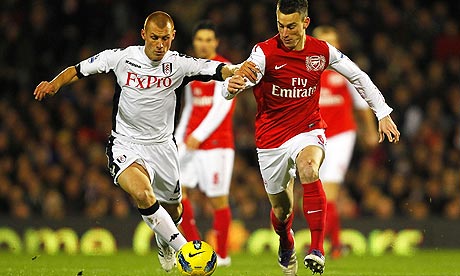 Arsenal were cruising 1-0 at half-time thanks to a headed goal from Koscielny. This is despite the fact that the Gooners had Walcott on the right hand side hitting cross after cross straight at the first defender and giant light-bulb head Gervinho continually tying his legs in a knot and falling over on the left hand side.
The second half was a complete turn around. Fulham had most of the ball, although they didn't really do anything with it once they got near the Arsenal box apart from playing wally against the centre-backs shins. Bryan Ruiz is obsessed with lobbing the ball. Crosses, passes, shots all bloody lobs. He also does that really annoying hand out, takes five minutes, shaped pass that all arrogant lefties do. I still kind of fancy him.
Anyway, if any of you nobs use twitter (@fitbathatba), you may have seen me write, "can someone explain the point of Steve Sidwell?". A perfect example of reverse psychology as the ginga ninja stepped up to score the equaliser. Wannabe ginger, Djourou got himself two yellow cards and sent off which most certainly changed the game. Everyone's favourite Super Mario character Koopa Troopa Bobby Zamora scored the winner right at the end with a tidy left foot volley. Perhaps Martin Jol might keep him now but then again he seems like a bit of a dick so he probably won't.